Welcome to the secret kingdom of Sales Engineering!

We provide an unbiased view on the world of Sales Engineering via a beautiful Lord of the Rings styled map. 
Do you miss your application, community or service for Sales Engineers? 
Then read through the FAQ or directly hit our form.

The map will be updated monthly. Current map version: 1.22 (April 2023)

Do you enjoy this truly unique item? Get the map's high-res image.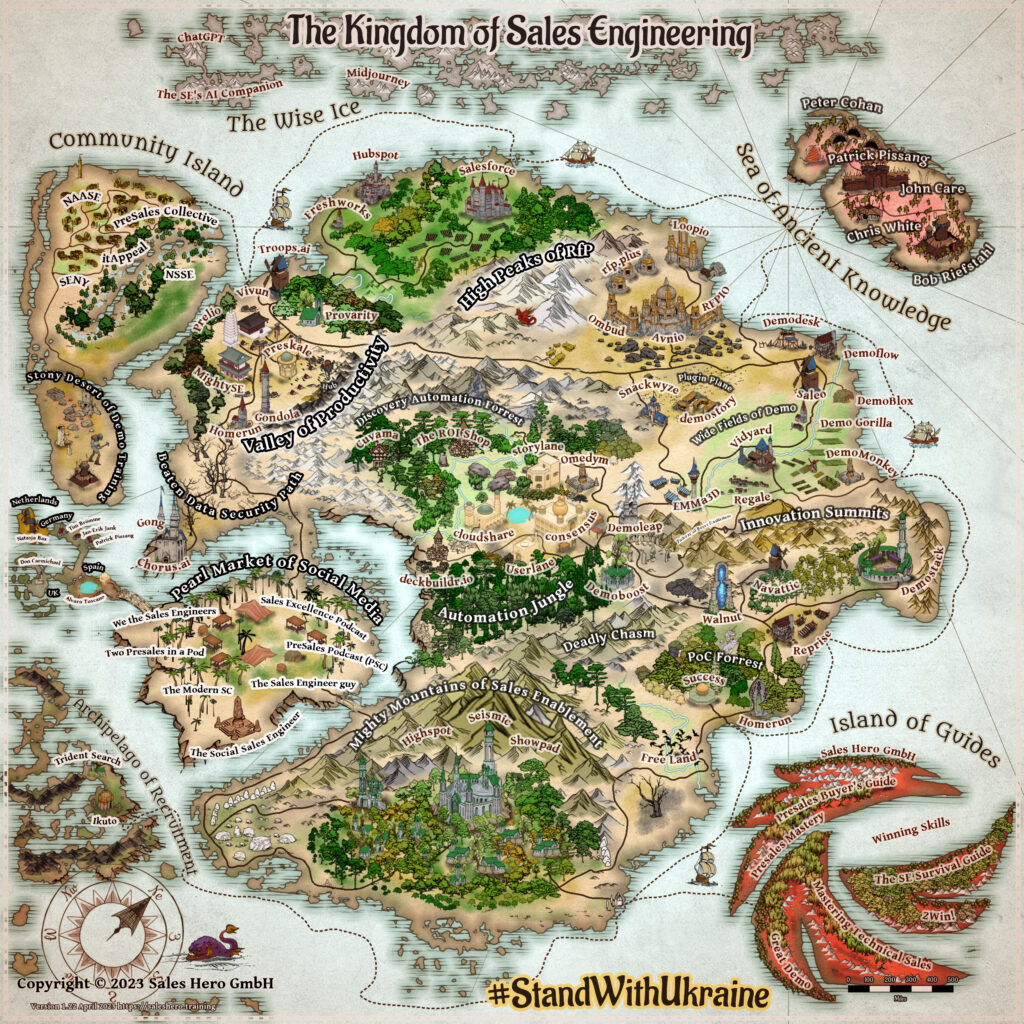 The Wise Ice Inhabitants
About The Sales Engineer's AI Companion:
Navigate the ChatGPT storm, win clients, and outperform the competition.
Change your industry, inspire prospects, and drive your company's vision using The Sales Engineer's ChatGPT companion. It complements your discovery, qualification, desk research, and storytelling skills with immediately helpful ChatGPT prompts.
Think of ChatGPT Prompts as a new form of programming – Prompt Programming. The prompt becomes your coding language, allowing you to program the GPT-3 to perform new tasks easily. This document will guide you through your "Hello world!" and many more extensive prompts.
Decide by buying this guide to educate yourself on navigating the AI storm and make it a companion instead of an enemy. 
https://presales.gumroad.com/l/sales-engineer-chatgpt-prompt-guide
Community Island Inhabitants
About itAppeal:
Supporting women in Tech Support network for women in IT.
A place to learn and grow; sharing experiences, resources, and materials. Covering Presales, Sales, Product, Consulting, and Services – all roles which come with a unique set of workplace challenges for women!
We're natural empaths with in-built communication skills and high emotional intelligence, the perfect mix for building relationships and succeeding in sales. So feel free to post job openings, training sessions, or mentoring support in the group, and let's attract more female talent to this industry. https://www.linkedin.com/groups/12518806/
About SENY:
Grow. Network. Prosper.
SENY is the premier community for sales engineers, solutions engineers, solution consultants and any aspiring pre-sales engineers in New York City area. SENY was formed in 2018 as a Meetup group to connect individuals with similar professional backgrounds and provide them with a platform to learn from each other, network with their current and future colleagues and form a close-knit community that thrives on collaboration and mentorship.
salesengineersny.com
About PreSales Collective:
The largest global community of PreSales professionals
Our mission is to elevate the role of PreSales in organizations worldwide. We aim to provide PreSales professionals with the resources, knowledge, network, and mentorship to develop long, impactful careers.
presalescollective.com
About NAASE:
North American Association of Sales Engineers (NAASE)
The first official trade association for Sales Engineers/Technical Sales Consultants to connect with industry like-minded SE's across North America. NAASE is a group of professional and dedicated sales engineers/ technical sales representatives/ solution consultants from a wide range of industries. We help run the technical engine of the broader economy.
https://sales-engineering.org/
About NSSE:
National Society of Sales Engineers (NSSE)
Identifying, nurturing, and promoting the next generation of sales engineers. The National Society of Sales Engineers fosters a community created by the next generation of sales engineers. We believe that sales engineers stand on the front lines of digital transformation and technical revolution across all industries and economic sectors. In other words, sales engineers drive progress through their unique ability to solve business problems with technical solutions.
https://www.nationalsse.org/
---
Valley of productivity Inhabitants
About Prelio:
Prelio turns presales practitioners and leaders into strategic business partners.
Prelio is a Presales Management and Productivity System designed specifically for Sales Engineers and their teams to be organized, understand their impact, and identify critical needs of their product. Presales practitioners use Prelio to be more efficient and Managers use Prelio to understand what their team is working on and the challenges they face.
https://preliotech.com
About MightSE:
Enhancing Sales Engineer's super powers
MightySE is a Salesforce AppExchange application and focused on equipping and enhancing the Sales Engineering role. This is specifically focused on the Sales Engineer's productivity, book of business, and Demo management. This information is then aggregated to help the SE manager better understand what the team is doing and help manage capacity.
Additionally, MightSE provides powerful data to tell the story of the impact and value of the Sales Engineer.
https://mightyse.com
About Homerun:
Homerun is a unified presales platform that helps presales teams of all sizes get exceptional presales results.
Homerun is unified presales platform to track and optimize presales performance, deploy a structured presales process, and efficiently scale your presales team. Presales teams using Homerun increase win rates (up to 15%), decrease sales cycles (up to 16%), and save time (2-4 hours per sales engineer per week). Homerun modernizes presales and connects it to the organization to help presales teams show their extended corporate value through more revenues, more competitive products, more data-driven marketing, and easier pre-sales to post-sales transitions.
https://www.homerunpresales.com
---
Pearl Market of Social Media Inhabitants
About Sales Excellence Podcast:
The Sales Excellence Podcast is all about successful software B2B sales and presales.
Our career paths have taken us through various companies and roles in (pre)sales over the last 10 years. We believe in a strategic, value-added, and customer-centric approach to sales. With our knowledge and experience, we want to help you to new inspiration and more success in your daily (pre)sales life.
https://sales-excellence-podcast.de/
About We the Sales Engineers:
The first consistent website and podcast dedicated to Sales Engineers
We The Sales Engineers is the first consistent website and podcast dedicated to Sales Engineers and Presales Professional. It was founded by Ramzi Marjaba who could not find any resources for SEs, so this resource for Sales Engineers by Sales Engineers was started in 2018.
https://wethesalesengineers.com
About Two Presales in a Pod:
The PreSales podcast hosted by Don Carmichael and Adam Freeman
Two PreSales in a Pod – PreSales podcast hosted by Don Carmichael and Adam Freeman to discuss the burning issues facing the PreSales world in a relaxed and conversational style. The world can get pretty serious, so join us for a casual chat on all things PreSales. Listen to the podcast on your preferred platform with episodes posted regularly.
https://www.linkedin.com/company/2-presales-in-a-pod/
About The Sales Engineer guy:
Presales & sales advisory, coaching, training and improvement
We're collecting user feedback on PreSales tools and how well they help us run, manage and improve PreSales work, both individually and at the team level. This feedback will be consolidated at an anonymous aggregate level into research that will be made available for free on the https://www.salesengineerguy.com/ site. Please let me know if you have questions about it ([email protected]).
https://www.salesengineerguy.com/p/presales-tool-survey.html
About The Modern SC:
The Modern SC is a blog about modern methods of Solutions Consulting
The Modern SC is a blog about modern methods of Solutions Consulting and Enablement for Solutions Consultants, Presales, and Sales Engineers alike. Regular articles cover topics including demo video automation, calculating ROI, demo tips and tricks, and more. You can subscribe to a monthly email to get the latest articles straight to your inbox too.
https://themodernsc.com/
About Alvaro Toscano:
El primer blog en español dedicado al mundo de los Preventas.
Basada en la experiencia como preventas de software en diferentes y debido a la falta de recursos en español acerca del mundo de los Preventas, Álvaro Toscano inició este blog + podcast para cubrir ese hueco. Este blog se inició en 2022.
https://alvarotoscano.es/
---
High Peaks of RfP Inhabitants
About Avnio:
Avnio is the only Salesforce native solution for both RFP Automation & PreSales Operations.
Avnio AI-fuelled solutions empower your Sales and PreSales Teams to 'Accelerate to Closed Won'. https://www.avnio.com/
About rfp.plus:
Experience the true automation of RFP responding.
We have tried all the options before we developed RFP Plus.
The manual process was highly painful. Sharepoints were not useful. It addresses only the collaborative part and does not help in reusing the contents. Tried every tool in the market and found the cost of maintaining them was too high.
While they address the pains related to managing the incoming RFP files, they fail miserably in the "search and match" logic. The questions when searched without cleansing produces inaccurate results. Adding manual tags of keywords on each of the questions in the repository is again a huge manual effort that defeats the whole purpose of automation.
RFP Plus separates each question into stopwords and keywords and provides weightage to keywords so that they are used for better searching. If there are acronyms, mis-spelling is addressed too. ALL THESE ARE AUTOMATED. Decide the go-no-go based on a set of fixed questions or a TEMPLATE. Upload the RFP received and match them against different attributes of your repository (such as a particular product, or a region) and visually see which has the best win rate. Please don't make the mistake of finalizing your RFP response system, without watching a demo on RFP Plus https://rfp.plus.
Alternatively, drop a line at [email protected]
---
Automation Jungle
About consensus:
Consensus is intelligent demo automation software that helps you scale Presales.
Using Consensus, your sales engineering team builds a library of reusable interactive video demos that Sales sends out on-demand. Consensus automatically personalizes the experience and tracks engagement, bringing prospects to live demos better educated and ready to talk specifics. This reduces unqualified demos to near zero and can double your SE team's productivity.
https://app.goconsensus.com/play/34fbdbfc
About deckbuildr.io:
The perfect pitch deck: Ready in 30 seconds!
Deckbuildr is the fastest and easiest way to customize a pitch deck for each sales meeting.
Stop copy-pasting slides and start using Deckbuildr.

https://deckbuildr.io/
---
Wide Fields of Demo Inhabitants
About EMMa3D:
EMMa3D: re-imagining complexity in 3D maps.
EMMa3D is a unique 3D visualization tool that changes the way people think about and manages complexity. EMMa is a self-serve, 3-dimensional meta map that creates a real-time model of every element, both physical and virtual and making sense of 3D space including things that are abstract.
https://emma3d.com
About DemoMonkey:
Demo Monkey – Custom Demo Every Demo.
DemoMonkey allows you to turn your software demo into a fully tailored demo for your prospect in minutes: You simply provide text & visual replacements for your application's UI and DemoMonkey turns your generic demo into a personalized experience for your audience.
https://www.demomonkey.net/
About demostory.io:
The demostory browser is built for live demos
The demostory browser is built for live demos, it makes demo set-up easier, the flow smoother, and ultimately helps you do what you do best:
Give great demos! Build demos, tell stories!
https://demostory.io
About Vidyard:
The fast (and free) way to record and share custom demo videos using your webcam and screen share.
Vidyard is a video recording and sharing solution that enables Sales Engineers to easily record custom demo videos using screen sharing and their webcam. Customized demos can be quickly recorded for specific accounts, or pre-recorded demos can be recorded and made available to the rest of the sales team to share with customers at any time. Vidyard also makes it easy to send these videos to prospects via email and to track who watched and how long they engage.
Quickly record one-off demos for key accounts or build up a shared library of pre-recorded demos. Easily send demo videos via email and track who watches and how long they engage. Save time, join fewer calls, and let your videos do the work.
Enjoy Vidyard free, forever!
https://www.vidyard.com
About Demodesk:
The #1 customer meeting platform with real-time sales enablement.
We empower every rep to become a top performer – by guiding sellers in real-time, automating non-selling tasks, engaging customers in the meeting, and analyzing insights at scale.
Demodesk automatically loads the perfect playbook into every customer meeting – guiding reps with the right slides or web apps to present, talk tracks, and battle cards on the spot. Sales teams can automate non-selling tasks from scheduling, meeting preparation, CRM documentation to follow-up. Our breakthrough screen-sharing technology makes meetings truly engaging and lets customers interact with the software during the meeting.
Leading SaaS companies are using Demodesk to cut down ramp time, increase quota attainment, lift sales productivity, and accelerate growth.
About Omedym:
Omedym — My Demo spelled backward — digitizes the demo experience to address buyers' desire for product-centric, automated, and human demo experiences.
Omedym customers see a 135% improvement in sales results.
How it works: Upload, as videos, your everyday demo content: (technical, overview, scripted, and personal follow-up demos, webinars, whiteboard sessions…). Omedym then digitizes each video, making them searchable (inside the video), so your buyer can quickly watch snackable "My Demo(s)" that answers their questions. Buyers stay engaged because we know they won't watch long videos or take tours. Search helps your buyers buy. Search gives buyers a non-prescriptive\preferred approach to learning about your products.
ENGAGEMENT – INSIGHT – ACTIONS: Omedym's digital demo platform increases buyer engagement by drawing prospects in. They can search and explore demo topics that matter the most to them. Sales sees the prospect's complete digital footprint, which gives them the insights they need to target the selling motion. Sales knows which stakeholders are engaged based on search and the content they've viewed. This enables them to take actions that shorten the sales cycle and expand the selling opportunity.
Use cases: Presales digital demos, request a demo replacement, inside sales, sales, customer success, training, and partner enablement.
https://www.omedym.com
About Demostack:
Demostack helps revenue teams showcase products in the best light, without the hassle.
About Demostack: Demostack helps revenue teams showcase products in the best light, without the hassle. Our platform lets you spin up a demo environment and tailor the story to every buyer – all in a matter of minutes, with no code necessary. There's no linking together screenshots to recreate your product experience – our best-in-class technology automatically captures all your product's bells and whistles, so your demo environment looks and acts like the real thing. Craft a story that resonates without spending weeks on a custom demo and win more deals faster.
---
Plugin Plane Inhabitants
About Snackwyze:
The easiest, fastest and most affordable way to create interactive walkthroughs and guided demos.
The easiest, fastest, and most affordable way to create interactive walkthroughs and guided demos
+ The Snackwyze chrome extension records your screen and automatically creates interactive product experiences in seconds. Snackwyze is most effective during pre and post demo customer communication.
+ Get started for FREE at https://snackwyze.com
---
Innovation Summit Inhabitants
About Navattic:
We're on a mission to turn the product demo into a growth engine.
Navattic helps SaaS sales engineering and marketing teams create shareable product demos. With our no-code platform, teams can build, send and track product demos. The Team: As former sales engineers at Oracle, we saw the importance of sharing great product demos when selling B2B software. Prospects are increasingly demanding to get hands-on with products before buying, yet sales and marketing teams lack adequate engineering resources to share the product on their own. Neil, Chris & Randy co-founded Navattic to solve this challenge.
About Walnut:
Codeless demo platform
With Walnut, sales and marketing teams can create customizable, unbreakable, and insightful product demos without coding a single line. Sales teams can easily scale their demos: all they have to do is to create one custom product demo for each prospect's use case and duplicate it. Marketing teams can embed an interactive demo on the marketing materials and understand how visitors/subscribers use their product in real life. With Walnut's analytics, the company gets visibility over the demo usage and can optimize the teams' focus to improve the prospect sales experience. From discovery to post-sales, Walnut's codeless platform covers all the aspects of the sales process, making it more consistent, efficient, and focused.
https://walnut.io/
---
PoC Forrest Inhabitants
About Homerun:
Run Your Best POCs: Unlock hidden insights from your POCs to boost sales, improve product, and optimize presales activities.
POC Management: From start to finish, run more effective and efficient POCs that win deals
POC Visibility: Know the status of every POC and the workload of every team member
POC Best Practices: Follow built-in best practices and standardize POCs so that every POC is your best POC
POC Insights: Learn what is working and what is not and continuously improve your POCs to boost sales https://www.homerunpresales.com
About Success:
Success is a Sales Success Platform, purpose built for Sales Engineering teams.
Success makes it easy to track, manage and reports on presales customer engagements. These customer engagements could be product demos, Proof of Concepts (POC), Proof of Values (POV) or Pilots. Success provides easy to use platform that not only makes the process transparent, but also provides structure for using sales engineering best practices and making POCs/POVs successful.
https://success.app
---
Mighty Mountains of Sales Enablement Inhabitants
About Seismic:
Stories compel action.
Is your story getting to the right buyer? Seismic helps align go-to-market teams while empowering them to deliver engaging buyer experiences that drive growth.
So drive employee experience EX to get customer experience CX!!
Seismic's platform coordinates your people and technology to efficiently deliver personalized, relevant content, helping your sellers move faster and win bigger.
⚡️ The world's most powerful Storytelling Platform™ The most comprehensive solution on the market, Seismic delivers industry-leading tools to orchestrate engaging buying experiences, at scale.
?️ Customer experience optimized for success From user-centric product design to deep support resources, Seismic's platform solution is designed from the ground up to help clients get results fast.
?️ Market leadership recognized industry-wide Seismic's sales enablement solution leads the category across major analyst reports like Aragon, Gartner, and Forrester, with over 85 awards and inclusion in the Forbes Cloud 100.
Seismic's sales enablement solutions are centered around providing your salespeople with the right resources, processes, and technology needed to sell effectively and increase revenue.
90% of marketers don't know how to measure the ROI of content or the influence on deals from sales.
Imagine the potential your sellers will have with a centralized hub for everything they need to engage their buyers – from content to competitive intel, product news, and more!
Discover how Seismic's leading sales enablement solution empowers your sales and marketing organization to exceed buyer expectations across their journey.
https://seismic.com/
---
Island of Guides Inhabitants
About Sales Hero GmbH:
Your journey from the demo-dolly to the rockstar of the sales team.
We from Sales Hero GmbH are convinced that Sales Engineers are the execution engine for differentiation. They are the ones leading with a vision, sticking in the client's mind like chewing gum.

We teach and coach Sales Engineers how to differentiate in the Sales Cycle not by a killer demo but by being themselves.
Creativity, boldness, and the unexpected are far better client experiences than an entirely filled RfP or lengthy demo.
The lead trainer and founder of Sales Hero GmbH Patrick Pissang has a sharp focus on creative methodologies for approaching opportunities, discovery, qualification, and mindset. Basically, our methodologies show Sales Engineering teams how to lead with the unexpected, so that they stick in the client's mind.
Sales Engineering Managers and VP Sales bring "Sales Hero" in when their Sales Engineering team …
? needs a motivational push or inspiration on how to approach opportunities
? mastered every demo training but is still not seeing the expected results
? wants to focus on improving discovery skills
? is facing massive competition and needs to effectively differentiate themselves
?‍♂️ decides to transform into a team of well rounded trusted advisors
? needs a Sales Enablement practice with Sales Engineering content
We provide training to B2B Sales Engineering teams and on-demand content for Sales Engineering Enablement. Topics cover Qualification, Discovery, Preparation, Value Proof, and Mindset – transforming SE's from demo dollies to rockstars of the Sales team.
About Winning Skills:
When Complex Technology Solutions Meet Complex Buying Environments, We're Here to Help.
We're Winning Skills, the experts in Technology PreSales, Sales Consulting and Sales Engineering. Don Carmichael, the Founder and Chief PreSales Guru has 30 years of Technology PreSales and PreSales Enablement experience built at companies like SAP and Oracle. Winning Skills are trusted by Deloitte, Sage, Adobe, Freshworks, Conga, Snow, and many, many more.

Don is a prolific publisher of top tips, posts, webinars, and podcasts on a vast range of PreSales topics and is a recognized thought leader defining the future of the PreSales role. We run PreSales courses, workshops, seminars, kick-offs, coaching, organizational consulting, onboarding, and offer online content. Talk to us about how you can maximize your customer moments, increase your win rates, reduce your cost of sale and increase your revenue per demo.
Visit Winning Skills.
About Presales Mastery:
Presales Mastery helps B2B software companies deliver better demos to win more business.
Our personalized demo delivery and execution coaching improves deal progression and win rates, increases average deal size, frees up sales leadership time to focus on opportunity management and other priorities, provides better insight into rep performance both individually and across the team, and improves cross-team learning.
Visit Presales Mastery.
About Pathfinder Consulting:
We love PreSales.
Depending on the lifecycle stage of your company, your Solutions Engineering organization has different objectives:
• Start-ups need to build it.
• Scale-ups needs to professionalize it.
• Enterprises need to innovate (sometimes even reinvent) it.
Only if taken care of the right way, your SE organization will drive the evolution of your company as a whole:
1. form it to a serious player in the market,
2. professionalize it to scale sustainably,
3. innovate to stay sharp and relevant long-term.
SE organizations are accompanied by us throughout all of their lifecycle stages. Across all dimensions:
1. Strategic: we advise your SE XVP. GTM, Operating Model, Engagement Model, Governance. Hit your targets.
2. Tactical: we consult your SE Center of Enablement. Process Framework, Methodologies, Learning Journeys, SE Tool Automation. Keep your SEs happy.
3. Operational: we train your SEs craft: Discovery, Demo, Sales. Art: Creativity, Storytelling, Strategy.

Stay on top of your game.
We work in the SE field.
We are strategists.
We know how to implement ideas.
We love presales.
www.pathcon.tech
About Great Demo:
Great Demo!
Great Demo! is the fully validated methodology for preparing and delivering crisp, compelling and surprisingly successful software demonstrations. We offer a range of Workshops, Seminars, and Coaching for presales, sales, and customer success teams of all sizes who support sales, renewals and expansion of broad-based offerings and verticals from accounting to zymurgy. Facilitators span the globe, providing training in a variety of languages and time zones. Great Demo! is an evergreen methodology evolving to embrace new technologies, fresh strategies, and changing go-to-market sales and presales motions.
https://GreatDemo.com
About Mastering Technical Sales:
There Is More To Presales Life Than Doing A Demo
Based upon the #1 best-selling Sales Engineering book, we've built a full curriculum of SE Professional Skills classes. We cover every aspect of the SE role from up-front Business Value Discovery, through all that demo stuff, to Executive Presence and Trusted Advisor. We also wrap all that content with video reinforcement and role-specific SE Leadership workshops. The content is available in English, Spanish, Japanese, Korean, and Mandarin. Contact us now to make your customer interactions more memorable, interesting, and compelling. www.masteringtechnicalsales.com
---
Ancient Sea of Knowledge
About Chris White:
Chris White's Six Habits Training – Empowering Technical Sales Teams to Create IRRESISTIBLE Sales Experiences
Chris White is Building the Next Generation of Highly Effective Sales Engineers. His Amazon Best-Seller, "The Six Habits of Highly Effective Sales Engineers" launched DemoDoctor Online Training and is the foundation of the TechSales Advisors Comprehensive Team Training Workshops. The Six Habits Curriculum covers the fundamental skills necessary to transition into and succeed in the role of technical presales. Developing a high trust Partnership with sales. Mastering the art and science of Discovery. Learning to Prepare with efficiency and effectiveness. Customer-facing Demo delivery skills. Storytelling. Getting the Win. Find out why companies like Salesforce and SAP have integrated the Six Habits into their onboarding programs.
http://www.demodoctor.com
Archipelago of Recruitment
About Ikuto:
PreSales recruitment by PreSales people. Building high-performing, diverse teams in the SaaS & Solutions sector. Cut the time and effort you spend hiring dramatically to concentrate on what you do best.
The Realm of Recruitment. An ancient land shrouded in mystery, frequented by aspiring nations to build fearless armies of loyal legions. Often recalled by kings and queens as full of savages and greedy merchants. Whilst heavily populated with small tribes practicing the same legacy rituals, one true leader rises with the good of the kingdom at heart. Their name came to be heard in the war cries of Sales Engineering battalions as they conquer markets across the land, and on the whispers of the mountains, carried by winds from each corner of the kingdom… Ikuto.
---